Will CBD Oil Show Up on a Drug Test?
CBD oil has surged in popularity in recent years thanks to federal legalization and greater awareness about its myriad of benefits, so it's not surprising that we've seen a lot of people asking lately "will CBD oil show up on a drug test?"
Many organizations require both potential new hires and current employees to take drug tests, including standard workplaces, government offices, and athletic associations. This makes it important that consumers have the information they need to enjoy the benefits of CBD oil without risking their jobs.
The good news: pure CBD isolate will not result in a positive drug test. Where the confusion tends to come in is when we look at the difference between full-spectrum and broad-spectrum CBD oil. The latter of which may contain THC and/or CBN (aka cannabinol, a cannabis compound and THC derivative). Both of these substances will result in a failed drug test when screening for marijuana, making it crucial that consumers pay attention to where their CBD is coming from and how it's made.
What to Look For When Buying CBD Oil
Knowing what to look for when buying CBD oil is key to ensuring that you don't risk failing a drug test. The more you understand how to read CBD product labels—and why it's so important to do so—the more informed you become about spotting the difference between full and broad spectrum CBD products.
So what should you look at? Here are 4 major factors to keep in mind when looking for safe, CBD isolate products:
1. Dosage amounts. Higher CBD potency is preferred for getting the maximum amount of benefits out of your CBD products, but products with high potency carry a risk of contamination from other cannabis compounds. Look for products that are clear and transparent about what an effective dosage is and that aren't just trying to lure you in with high potency claims.
2. CBD concentration. On the same point as above, a high CBD concentration could mean cross contamination. If you're buying a highly concentrated CBD product, only shop trusted brands that put their products through multiple rounds of third party testing to make sure no other compounds are present.
3. Impurities. Low-quality CBD is problematic. Simply put, you can't trust a low-quality product to be free of substances that will trigger a positive drug test, so it's imperative that you do your research on potential impurities in a product and stick to CBD products that are tested to ensure purity.
4. THC levels. In order to be legal, a CBD product must contain no more than 0.3% THC levels. If you're worried about drug testing however, you're better off with a THC-free product. (We carry a THC Free CBD Oil that's on the list of WADA approved supplements, making it one of the most reliable CBD products around for those who undergo drug tests.)
How Much CBD Oil Should I Take?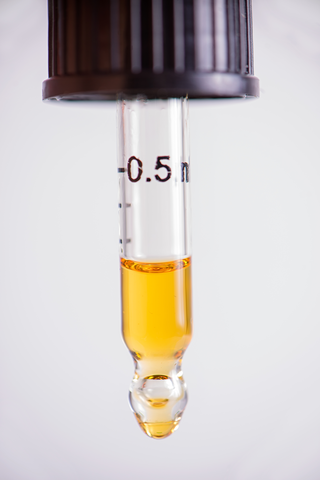 Asking yourself "how much CBD oil should I take?". While the dosage amount won't matter much in terms of drug testing as long as you're only consuming CBD isolate, it's still always a good idea to know what your right dosage is.
There's no one size fits all CBD-dosage. Nor is there enough current research telling us what dosages work best. Fortunately, thanks to the safety of pure CBD isolate you can play around with dosages while finding your best fit. We recommend starting with a low dose and working your way up (if necessary) until you find the dosage that provides you with the benefits that you're looking for.
The takeaway: pure, CBD isolate oil won't make you fail a drug test, and is always the way to go—whether you're getting tested or not. At My Health Etc., we only sell products from reliable CBD companies with claims they can back up, so you know you can trust what you find here.
Need some help finding your perfect CBD product or dose? Contact us and we'll be glad to help!